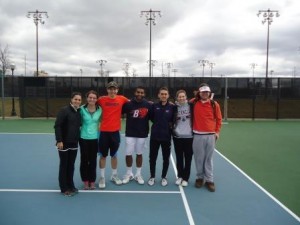 Bucknell Club Tennis is a co-ed team consisting of both male and female students ranging from first-years to seniors. The team competes in the USTA Tennis on Campus Middle States circuit.

Tennis on Campus events are based on co-ed team-play where the results of men's singles, women's singles, men's doubles, women's doubles, and mixed-doubles matches are combined for the total team score. Historically, the Bucknell Club Tennis team has fared very well in various tournaments, invitationals, and scrimmages throughout the Middle States region in both fall and spring play.

Although prior tennis experience is highly encouraged, the team is very inclusive and makes Club Tennis an enjoyable experience for all levels of play.
Weather permitting, practices are held on the outdoor Bucknell courts twice a week during the fall and spring usually Tuesdays and Thursdays. In the winter, indoor practices are held at West Branch Tennis Club in Williamsport.